Escortify Review: App or Escort Directory?
Escortify Review: App or Escort Directory?
Escortify is an Australian escort directory which features female escorts, straight and gay male escorts, and provides advertisements for individual escort providers. It looks like a mobile app even the mobile screen on the website is made to be friendly to app users. In that respect, it strikes a chord with most users who like to find hookups and I used to hooking-up on Tinder and other adult dating apps. This Escortify review confirmed my suspicions that this is strictly a commercial sex service and that you won't be able to find any free dates here. Let's find out what else is specific about Escortify.
Escortify Review: What Type of Ads Can You Find
Let's clear up one thing straight from the start. This website is aimed at escorts and not at clients. It includes a detailed explanation about the various advertising services which consist of free profiles and paid profiles. The free profile provides a general basic membership while if you pay you can get extended memberships or special memberships. Extended memberships include 3-day, weekly, or monthly participation.
If you want your profile to stand out among the others you need to choose the Diamond subscription or the Special Boost subscription. Both are methods to show your pictures among primary profiles. And of course, they cost more.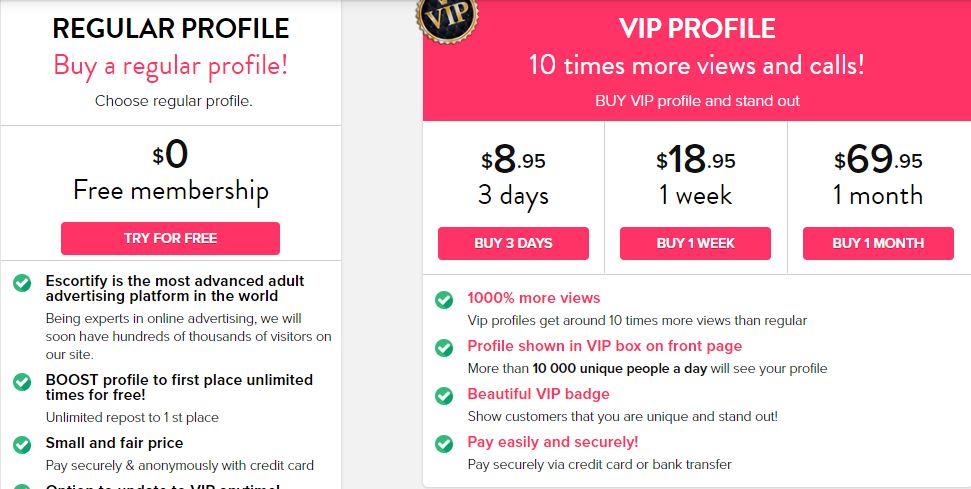 There are profiles from most larger Australian cities. Keep in mind that this is an escort directory and not an escort agency. It means that you will have to communicate and handle arrangements with the escorts personally. Unless there is an associated agency always remember to ask the escort all questions before the date. Otherwise, you will find the escort profiles linked to an escort agency. They take the time to explain most of the details in the general conditions. However, there are always caveats so check all facts cautiously.
What Type of Profiles Are there on Escortify?
The escorts on Escottify and some of the most realistic men and women I've seen in a while. There are hot, gorgeous, and handsome escorts but also more average looking service providers. I can say that you can find a suitable escort for all tastes and preferences. This is an app-style website, the information is really concise and to the point. Every escort can upload a couple of pictures and provide key information such as body type and measurements, and a personal message. I guess you won't have trouble finding what you need.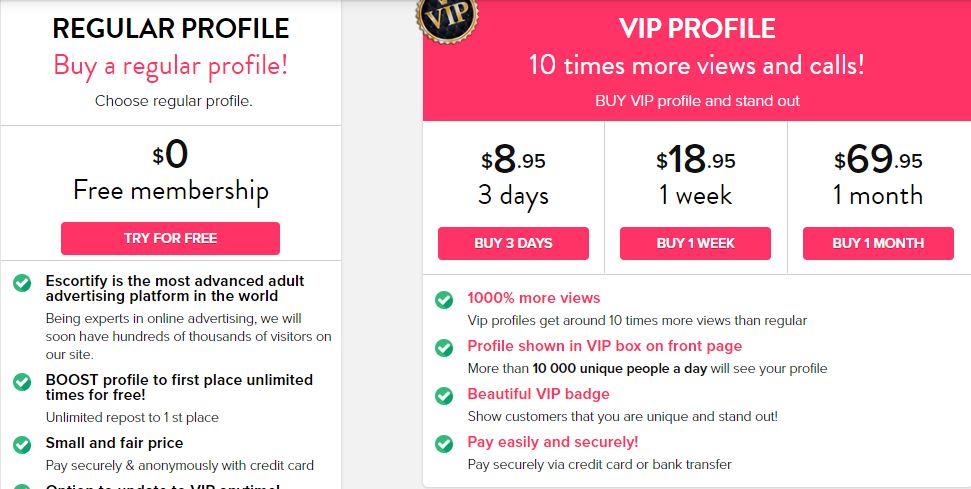 Don't expect to get it for free. Services cost from $100 per hour to $250, $300 and more. As with any escort website, things can get tricky at the real date. Make sure you check with the escort that here she provides the actual service if you want. Otherwise, you will need to pay for the service and still don't get what you want. The minimum you will have to be paying for a taxi or transport is the hourly rate.
Escortify Review Summary
To wrap it up, this is an escort directory for independent escorts and call girls in Australia. There is no free sex of free hookups. You will have to pay for an hourly rate. If you're interested in getting laid without paying expensive memberships to consider joining a free hookup site.  Instead of signing up for an escort site membership, do it without charging you a dime.
What others are saying
Profile Quality
Search Options
Usability
Features
---
TIPS FOR GETTING LAID
Site Rankings
---