Select Sydney Escorts Review: Aussie Chicks That Cost a Fortune
Select Sydney Escorts Review: Aussie Chicks That Cost a Fortune
This escort agency based in Sydney starts with an exciting opener on their front page – "Life is short, have some fun!" Well, that is true, but it is also true that it can be the "quick as lighting way" to getting ripped off or not getting what you expected. Additionally, the famous Ashley Madison used a similar motto, and we all remember how it turned up for some of the users there. They ended with serious privacy concerns. Privacy and discretion can be a huge issue at online dating. Let's delve into this Select Sydney Escorts review to find out more about your potential experience with them.  
Select Sydney Escorts Review: Check Out the Girls
Most escort service providers promise to give you maximum discretion. Will this turn out to be real? It depends, but you have to play it carefully. Sometimes, it is much better to join a hookup site than to try to be discreet and get lost in the coverup.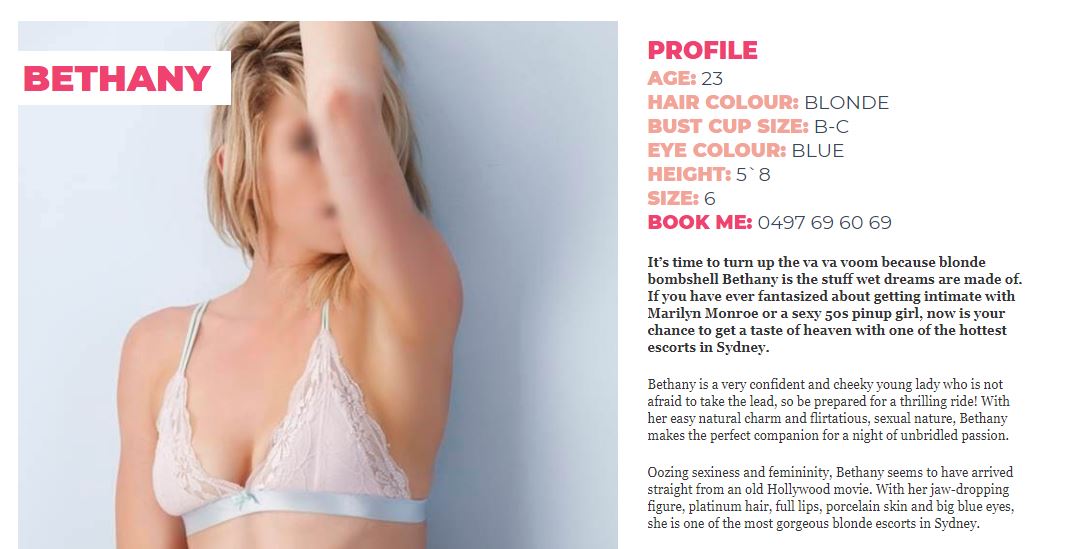 Select Sydney Escorts girls are cute, sexy, and well-groomed. Maybe that's why they are so expensive. Even for luxury escorts, their rates are striking. The FAQ section gives quite a lot of information about how to complete the booking. You can do it online by typing in the contact form. Or you could call them to see what's available. The site includes an open call to girls interested in working there. Tips and tricks about how to do well with escorts are in the blog section.
The best bit is the service description. Even if you don't know much about sexual adventures, you will learn everything there. And if you do, which I'm assuming is more likely, you can check what can you get at Select Sydney Escorts. You must act with discretion and tact all the time through the booking and the service.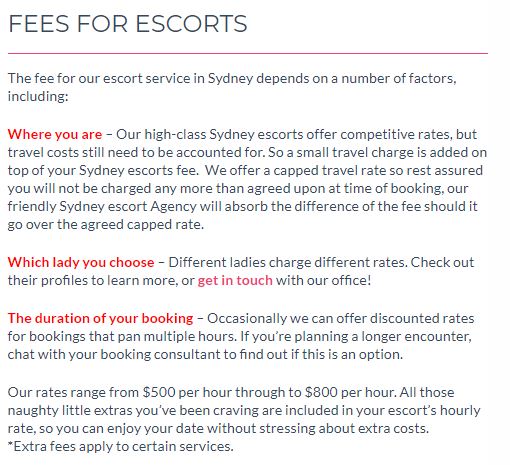 Select Sydney Escorts Review: Rates Confusion
As with any service that doesn't provide clear rates in advance, I'm not so happy with the information posted by Select Sydney Escorts. Rates are anywhere between $400 and $800 per hour. And this charge does not include the special package service. For example, two girls, or two guys with a girl, or extended service. If you decide to pay in USD, extra charges apply. All this information can be found in the FAQ section if you have the habit of reading it. In case you don't, you better start now, as many booking details get lost among the sexy pictures of very hot girls. 
Conclusion about SelectSydneyEscorts.co.au
Overall, I would say that Select Sydney Escorts provides a high-class escort service, but you have to be willing to pay a lot. Unless you have no success with adult dating sites, I don't see why would you pay so much. There are niche dating sites that could connect you to exactly what you are looking for. And you will get it for free. Escort sites are alluring but they cost a lot, and you never know if the reality will meet the expectations. This is especially true if you fall for nice pics and smooth words that are often included to boost the girls' allure.After all, they are pros! 
What others are saying
Profile Quality
Search Options
Usability
Features
---
TIPS FOR GETTING LAID
Site Rankings
---