CitySex Review: Is Hooking Up Easier in Big Cities or Small Towns?
CitySex Review: Is Hooking Up Easier in Big Cities or Small Towns?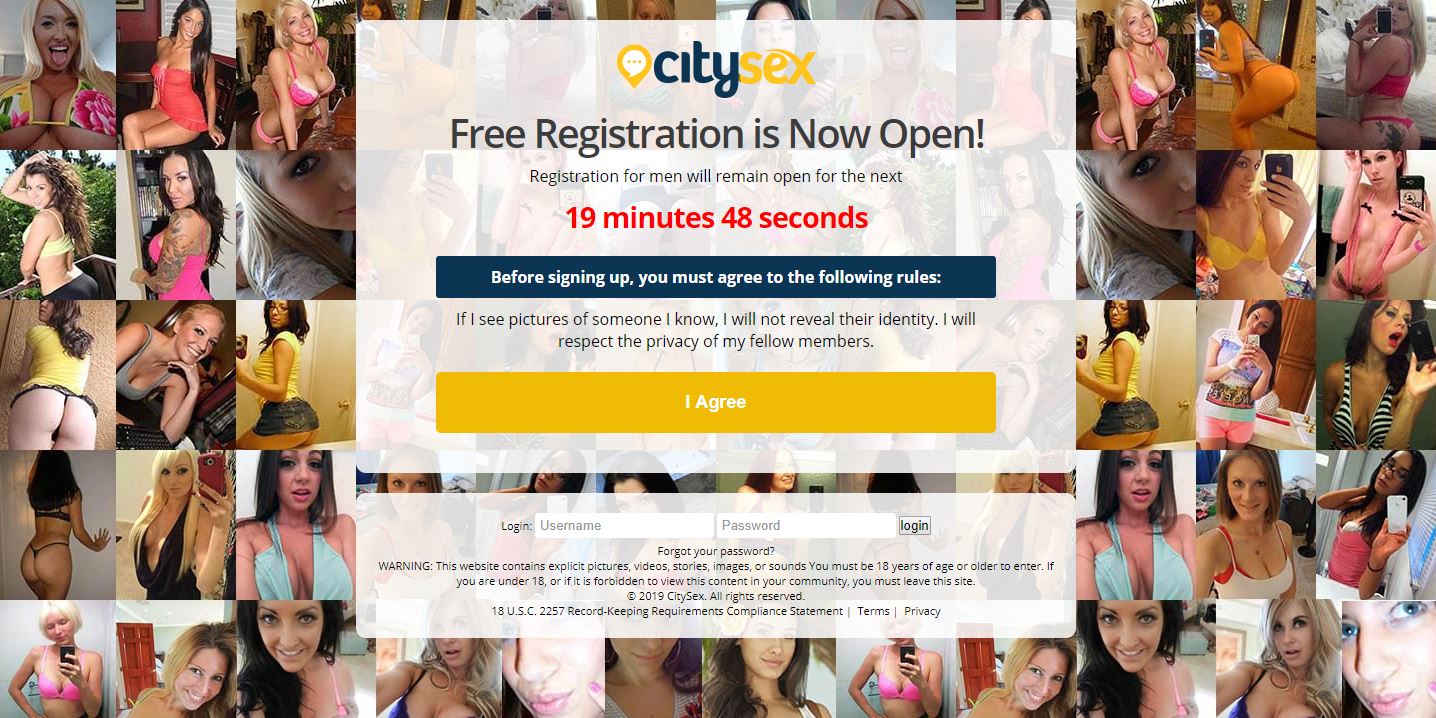 Most hookup sites have specific niches or location-based audience. We could agree on one thing. It's much easier to hook up in a big city than in a small town. Right? Or so it seems so. Sometimes people are like needles in the hay in big cities. Despite the huge crowds, many people are on their own and have difficulties getting laid. Thank God we have online dating services. Otherwise, sex in large cities would be non-existent. What are your chances for casual dates on City Sex? Check them out in this CitySex review.
CitySex Review: Genuine Features or Not?
Except for the very easy registration, we're not the biggest fans of City Sex. It has plenty of dubious features and you may not like everything that you discover about this site. For example, every communication you do with third-party websites, companies or affiliates is your responsibility. If you click on the links, or commercials, or even automatic profiles and engage with them, you will bear the consequences of frauds and scams.
There is no support or special customer service to help you with any legitimate concerns you may have with other people. This also refers to the dispute with other members. Although you can't control what other people do on a website some better quality hookup sites actually provide systems to help you navigate safely through unsafe online waters. This is especially necessary when it comes to hookup sites that can be great baits for naive users.

The second huge problem with City Sex is the creation of fabricated profiles. Love Stars can be anything  – from software to internal staff and copies of other member profiles. They are used to simulate activity and boost user engagement. This is not a very favorable feature because it's like a tiny or half-half scam. You can start communicating with these automated messages and think that you're in for the real deal, while, in fact, you end up receiving zero benefits
There are some CitySex reviews that put this website among the good ones. But we're not so sure that we should give it credit and put it among the top five or even among the first top ten. It has some good quality features and nice pictures, as well as a decent design, but since it utilizes the Love Stars, it loses more than a few points.
Subscriptions for CitySex.com
Unfortunately, you don't get much for free. If you decide to go for a longer membership, you will get discounts for buying monthly subscriptions in bulk. But otherwise logging in for only a month can cost you more than $40. Here are the other rates that you will need to pay on City Sex:
3-Day: $2.97 ($39.95 monthly)

1-Month: $29.95 monthly

3-Month: $24.95 monthly

6-Month: $19.95 monthly
Final Thoughts on the CitySex Review
In a nutshell, our conclusions from the CitySex review are that you will be joining an insecure and expensive site that uses computer-created profiles. This trick gives you the impression you're talking with real people. We could argue that the features and the registration is good but the rest of it, especially the Love Stars are not something to look forward to. Therefore, this hookup site can only come at the bottom of our adult dating sites review lists.
What others are saying
Profile Quality
Search Options
Usability
Features
---
TIPS FOR GETTING LAID
Site Rankings
---