Double List Review: Craigslist Ads Replacement with Mixed Reviews
Double List Review: Craigslist Ads Replacement with Mixed Reviews
Since the infamous closures of sites like Backpage and Craigslist sections of adult personals, many websites are trying to replace them. Though it's true that they provided out-of-the-ordinary ways to get laid, they also posed a lot of dangers. Scams and frauds thrived there. They made many people lose trust in online dating, especially for casual hookups. That is a niche particularly suited for various fraudsters that abuse people's trust in intimate encounters. No wonder so many users have been burned and are now looking to investigate the truth about hookup websites. We conducted this Double List review to help you stay safe on this website and many others that are similar in terms of classified personals and casual encounters.
What Most Double List Reviews Say About the Website
Unfortunately, there is no single opinion about this resource among the several Double List reviews present online. Use reviews are sort of mixed. That is understandable. As much as there are scammers, there are also genuine people that really like to find casual dates. However, they've ended up in the wrong place at the wrong time.
The adult personals businesses are flourishing, including the fake ones. Users really don't have much choice but to take a risk. Sadly, that takes them in murky waters. Not all adult dating stories end well. Many are full of scams. Let's see what are the most common ones. 
The Most Common Scams on Double List and How to Avoid Them
Even DoubleList.com warns you about the typical scams that show up on hookup sites:
Persons asking for your access code. They can abuse your contacts, profile info, and/or credit card info.

Users asking you to send money. The good old Nigerian prince scam. Don't send money to people you don't know over the Internet. Period!

Personal data phishing. Getting to your personal details and misusing it for various purposes.

Why you need email logins? To verify that it is really you accessing your profile and not someone else with the same link.
These are just more common, but there are many others, too. Therefore, sites like Backpage and Craigslist are not really secure for hooking up, even when multiple checking measures have been applied.
Double List Review: Can a Code of Conduct Protect You?
Despite the prohibitions, scammers succeed in slipping through the cracks. Take a look at this long list of forbidden activity on Double List. It's not that weird because it prohibits various illegal activities. Still, dishonest people manage to find new victims.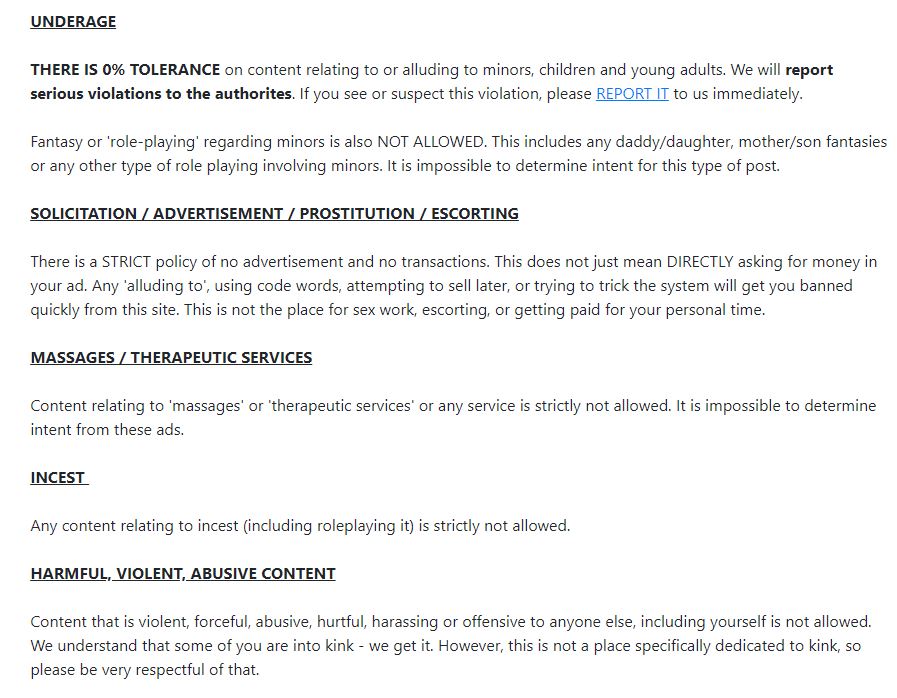 There you go – you just can't find your way around anything that can happen on casual encounter websites, including escorts and any other paid sex work!
Should You Join DoubleList.com? Review Summary
Even if you have never used a site for adult personals or casual hookup sites, you know that advertising places are ripe with potential for someone to get the short end of the stick. If the above concerns listed in the sections of the Double List review weren't persuasive enough, you might want to take your chances. Who knows, there might be one good apple among the many rotten ones? That's your risk to take. An alternative approach is to just go for a verified adult dating site and score almost instantly without so many worries.
What others are saying
Profile Quality
Search Options
Usability
Features
---
TIPS FOR GETTING LAID
Site Rankings
---