Secret Babes Review: Just Another Manchester Escort Directory
Secret Babes Review: Just Another Manchester Escort Directory
Manchester seems to be a very convenient location to hire escorts both for locals and tourists. It's no wonder this is the case. The UK has one of the most beneficial and liberal policies for escorts and the weather and location of the city are attractive for visitors. It seems like Manchester ticks all the boxes for being the first UK place for escort business. That's why I'm not surprised to see so many businesses flourishing in Manchester. One of them is Secret Babes. It looks a lot like many other Manchester escort directories. But if you want to know more about it in detail explore this Secret Babes review.
Secret Babes Review: A Trap for Tourists or Real Stuff?
When tourists are on holiday, they usually let loose and don't pay that much attention to surrounding dangers. In fact, being out of your ordinary place of living can be stimulation to get out of your comfort zone. And hiring an escort is one way to do that. Most escort deals get the stamp of approval on holidays. However, also the biggest frauds and scams happen when people are on holiday. You're a lot less careful when you're in a country or in a city you don't know that well. The potential for scams is even greater.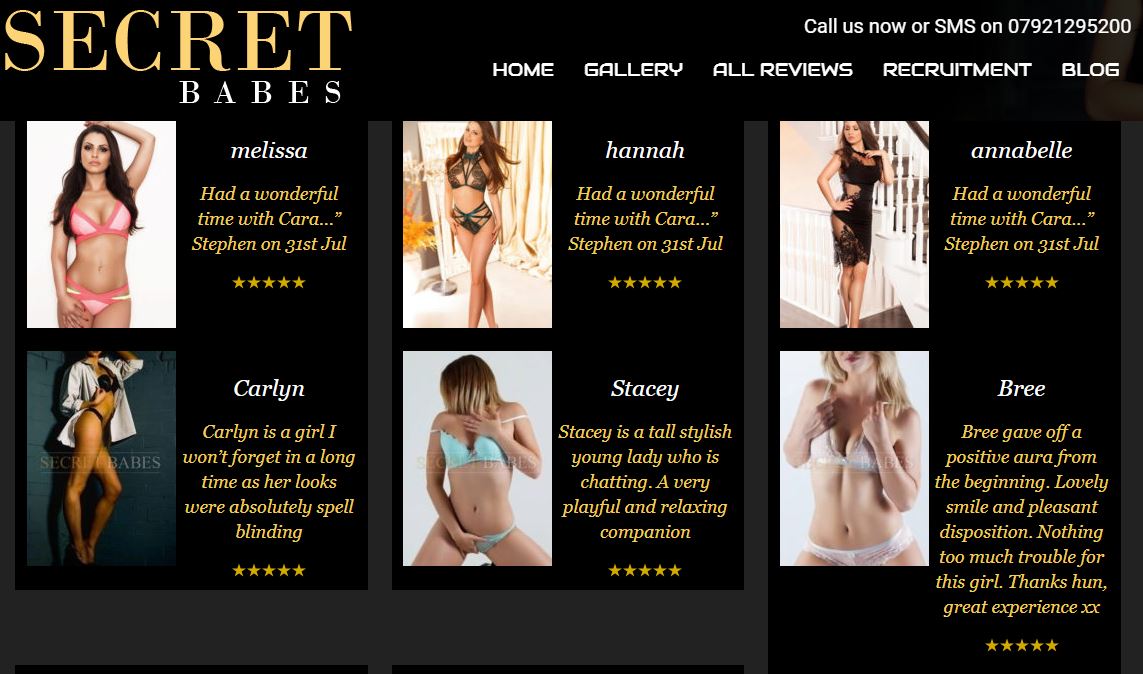 Naturally, if there is some sort of a verification system the risks are reduced. One way to certify that the site is good is by reading user reviews. However, the Secret Babes reviews made by users are not real reviews. They are just placement text that doesn't deliver real testifying by clients. If you click on one of the Secret Babes reviews, you will get nowhere. There are no real people behind these reviews. That's why I consider using Secret Babes potentially dangerous. It can look like a nice web platform with gorgeous looking girls, and the truth can be nothing like what is advertised on this website.
Rates for Secret Babes Escort Services
1 Hour – £150

2 Hours – £200

3 Hours – £250

4 Hours – £300

Dinner Date – £600

Overnight – £1500
These are prices for outcalls. They don't include payment for hotel rooms or costs for inviting the girl home. Most don't go to client houses at all. 
Blog: One of the Best Parts of SecretBabes.co.uk
On the other hand, the blog is quite nice and rich with content. You will find useful articles about best locations for tourists in Manchester, such as parks, beaches, and having fun. That fact certainly puts Secret Babes on the positive side. But I don't think it's enough to recommend you use it without any risks. Safety comes first. That's why it's best if you stay safe with free adult dating sites and avoid using escort websites altogether.

What others are saying
Profile Quality
Search Options
Usability
Features
---
TIPS FOR GETTING LAID
Site Rankings
---