Locanto Review: Just Another Tedious Craigslist Replacement
Locanto Review: Just Another Tedious Craigslist Replacement
One thing beats me. I don't understand why people are so uninventive and just copy other websites. In the abundance of solutions for mobile apps, as well as fancy features on the web I just don't seem to get it why adult dating sites copy Craigslist and Backpage. Maybe the reason is that those sites had problems with their personal encounter sections due to some concerns about alleged illicit actions. The aftermath was that they were closed. So now you can see multiple apps popping out from all over the web to replace them. This Locanto review showed me that you can find various profiles on advertising platforms with many risks and that you should pay attention to what is being posted there.
Locanto Review: Website Features
I'm not so concerned about the copycat methods. I'm more concerned about creating the same template which is then easy prey for scammers and fraudsters to post their out and find victims to steal their identities and credit card information.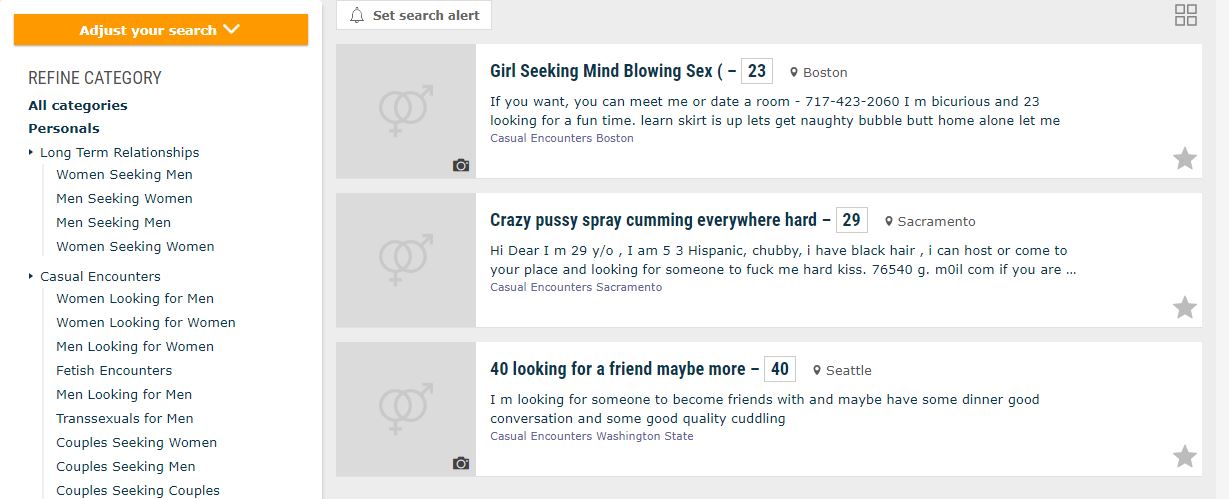 Locanto looks like the regular advertising platform with the usual sections. Here's what you'll find on this website for posting classified ads:
Homepage

: navigation menus and search bars for the website content. See all available sections including the personal section and links to the most popular content.

Casual Encounters/Personals

: there is a bit of everything in the adult dating industry including straight and gay sections. These exist to help you find what you need. However, by browsing the content I found out that there are a lot of ads that include commercial services such as escorts, basically sex for money. So these are not really personal classified ads. I wonder if there are any at all or maybe just 5 to 10 percent of all ads posted on Locanto.com.

Premium Ads: a way to make you pay more without finding what you want.
Premium Account

: another way to make you pay more by allegedly boosting your profile and contact information.

Generally speaking, the site has a nice layout and is easy to navigate. However, as with any other platforms with many users who post a load of stuff that you don't need it will be difficult to find women. You won't get laid among the plethora of fake ads, gay ads and paid sex ads.
Locanto.com Review: How Many Active Users Are There?
119K likes. Are these numbers from social media really verified? Yes, but they include users from over 60 countries. Do you really want to mess with that many people? They are distributed among various categories and it will be like searching for a needle in a pile of hay. It's much better to test your luck with websites including a focused audience such as those that target adult dating and casual hook-up users. I did a quick analysis of the audience on social media and most of them are not there for the "Personals" section.
Should You Join Locanto.com and Why Not?
It depends. If you're looking for a car, maybe you can have success on Locanto. By looking into Locanto user reviews you may also draw your own conclusion about which of the sections are most successful. I think we will all agree that it's not about those that promote hookups.
What others are saying
Profile Quality
Search Options
Usability
Features
---
TIPS FOR GETTING LAID
Site Rankings
---