Friday Ad Review: The UK Craigslist
Friday Ad Review: The UK Craigslist
This is a typical advertisement website that looks a lot like the UK Craigslist. You can find all sorts of standard ad categories that people post online – motor vehicles, jobs, and property. There is a special section directed to adult entertainment and this is exactly what I don't like on Friday-Ad.co.uk. The problem is people become confused with a variety of adult ads in one place. They can't tell the difference between free hookups and sex for money. If you want to know why I don't recommend using escort services, read further the content of this Friday Ad review.   
Friday Ad Review: A Mix of All Things Adult: Escorts, Hookups, and Cam Shows
Since the UK is way more liberal than the US about escort services, this business is thriving on the island. This website may not have so many available escorts. But if you take a look at other UK escort agencies I've reviewed, you'll notice the facts I'm talking about. The problem with the mix of ads is that you can easily get lured into something you didn't want in the first place. You can start browsing for cars and end up spending dollars on a cam show. I try to help people get laid for free. Therefore, I find these combined adult services pretty problematic. 
Are You Easily Confused by Adult Personals? Then, This Section Is for You!
You can search for escorts by location, using some sort of Google locator. Alternatively, you can look for your favorite bang preference. But most users are drawn by the images. And the issue is that adult personals, escorts, massage parlors, and webcam services all use similar wording in the ad text. By quickly skimming through the pics and the content, you won't even notice that you are contacting a call girl. Think you are hooking up for free sex? Think again! Have a look at these ads to get an idea of what I'm talking about: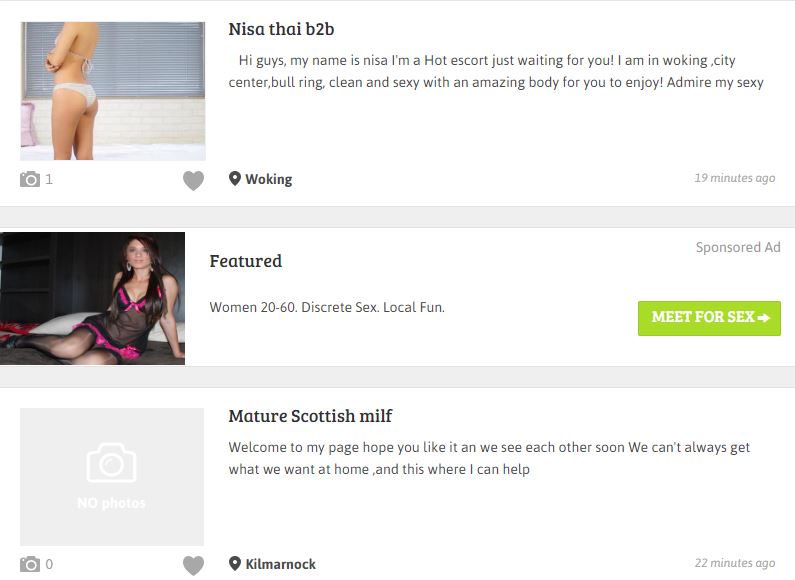 When you end up paying for the service, you will become more careful in the future. But to avoid that, you need to have falcon's focus. Or simply use adult dating sites rather than spending hours on websites for personal ads. 
Why You Should Delete Your Profiles on Mainstream Ad Sites: Friday Ad Review Conclusion
You can't blame the website, really. People publish anything. They use forums and ad resources to spread scams, phishing attempts, and identity thefts. The chances for something like that to happen on a verified hookup service are much lower. You know what you're getting into, especially if you use one of the better performing websites. Tourists are at greater risk when using local escorts because they don't know the rules of the game. There, that's all I had to say in the Friday Ad review. The rest is up to you and your common sense so use it wisely.
What others are saying
Profile Quality
Search Options
Usability
Features
---
TIPS FOR GETTING LAID
Site Rankings
---