ClassifiedAds.com Review: Very Few Real Profiles
ClassifiedAds.com Review: Very Few Real Profiles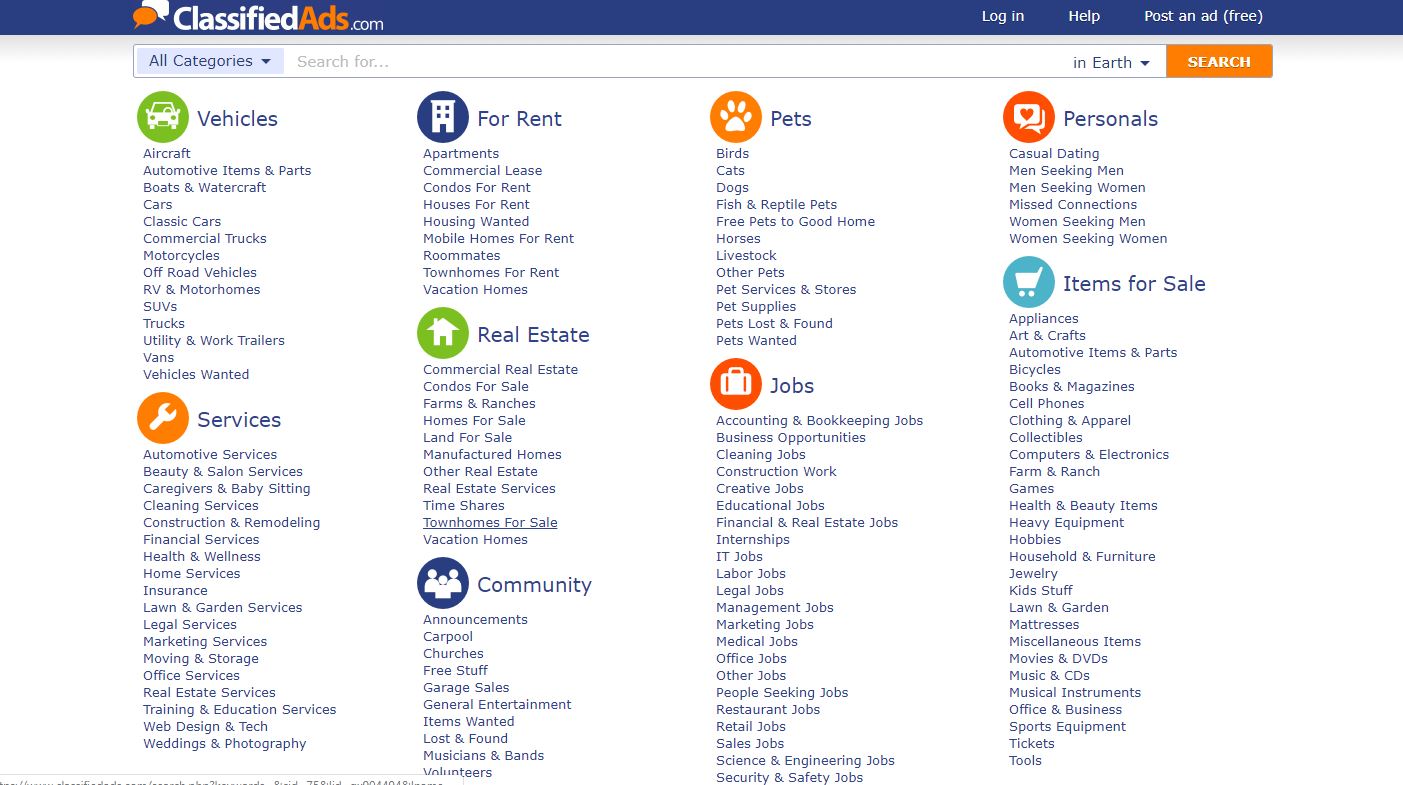 One of the worst things about communicating on the internet is that you don't know if you're dealing with a real person or a fake profile. This goes double on advertising sites. This is because people use them to post ads for non-existent items. Additionally, they hide under different names to steal personal data. Or, in the worst-case scenario, for phishing and to steal money with fake money orders, bank transfers etc. Many sites for posting ads are genuine, such as ClassifiedAds com. In this ClassifiedAds.com review, you'll see there are so many ads with suspicious content that you really need to be careful if you're looking for casual dating opportunities.
ClassifiedAds.com Review: Casual Dating Section
The website contains dozens of ad categories. Each has at least 5 or 6 subcategories in which you can find your interests. The usual stuff is listed such as homes cars hobbies services and of course personal encounters. The section for personal contains links to categories such as "women seeking men", "men seeking women", "missed connections", and "casual dating". But you really need to dig deep in order to find a genuine person. 
Paid Business Ads Rule the Site
At least 25% of all content is posted by commercial ad companies and the rest look like they're posted by people. But they don't contain any information on the profile. Therefore, you can't really say that these are genuine people. Some of the text and the messages posted on the board look like they're sent from porn stars or cam models. In fact, they look exactly like the content of the chat messages on fake dating sites. For example, the missed connections section is full of ads that are unlikely to be sent in order to find the person. For example, have a look at this snippet: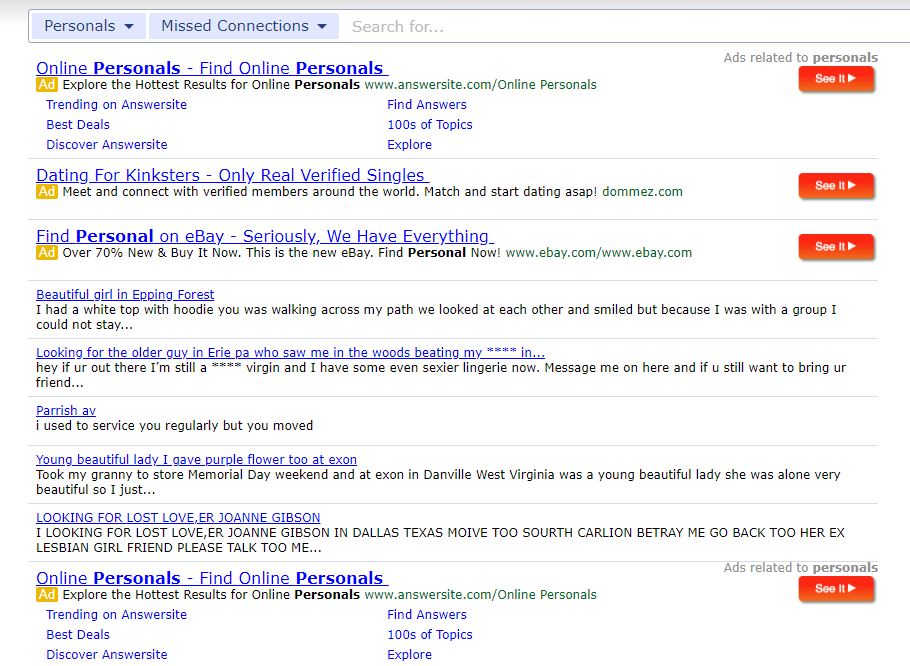 The site itself warns against online frauds and scams, so you've been warned!
ClassifiedAds.com Review of Blogs and Articles
One of the best spots, judging by this ClassifiedAds.com review is the section that gives advice. It also follows trending topics and includes blogs and articles. It's interesting because you find specific info about job vacancies and see postings about sponsored ads.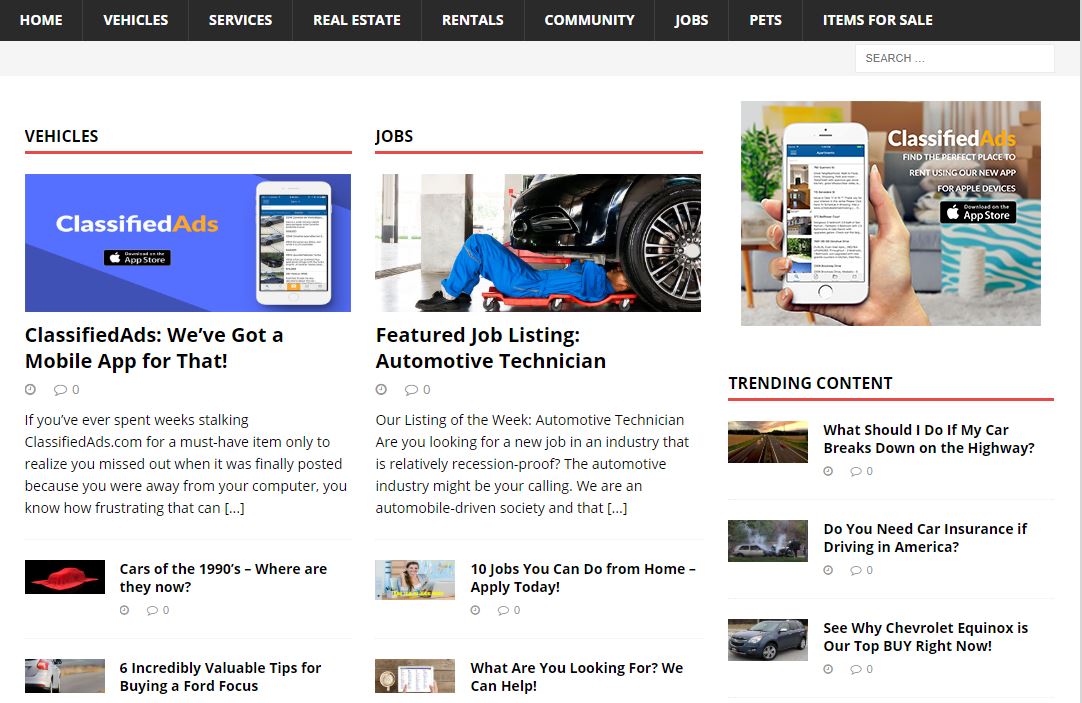 But this will only be helpful if you want to buy a car or if you want to get a job. You're here because you want to get laid and ClassifiedAds.com is really not the place to look for that. You may find opportunities for business that won't be anything for pleasure.
Final Thoughts on ClassifiedAds.com
What are the benefits of using Classified Ads? First, you get better informed about opportunities on casual dating websites. Second, you know how to distinguish poor from good quality dating sites. Third, you'll find advice about avoiding scammers and fraudsters. From time to time, you may even find someone who wants to get laid as much as you do and lives nearby. But is it worth to spend half an hour to create a profile, register and post an ad for free? We don't think so! But if you're into it, give it a go and let us know if you scored in the comments section below.
What others are saying
Profile Quality
Search Options
Usability
Features
---
TIPS FOR GETTING LAID
Site Rankings
---