Boss Agency Review: Like a Boss in Manchester?
Boss Agency Review: Like a Boss in Manchester?
Today's Boss Agency review is about the Manchester Escort agency. You know that I've done quite a few of the reviews about escort agencies located in Manchester and elsewhere in the UK. However, they appreciate any reviews done on the web. So today I am focused on this particular website about Manchester escorts. Manchester is the second most visited location with escorts in the UK next to London. This is probably because it is a tourist city but you will find plenty of agencies there. Let's see what you can expect.
Boss Agency Review: Solo and Duo Escorts
This Manchester-based escort agency is focused on solo escorts and duo escorts. In fact, duo escorts are one of the specialties. You can hire a pair of girls to fulfill your wildest sexual fantasies. You can also use a single girl and just have one of the more conventional fun evenings or days.
I think that what I most like about Boss Agency is that it has great search filters. You'll find the search filters placed on the homepage. If you fill out all 10 boxes you will really find the one escorts with the characteristics that you want to see for your date. Search filters are really great. But whether the number of escort girls is so high so that you can find everything that you desire I'm not so sure.
That said, the girls are truly gorgeous and sexy. The rates are not that expensive as well. I can say that they're about the average for UK-based call girls about escorts starting from £120 per hour.
Boss Agency Reviews: The Truth Behind the User Experience
What I don't like about the Boss Agency is that the Boss Agency reviews, which seem to be posted about the girls' performance, don't have clear visitor information. If you take a look at some of the girl profiles you will find that the reviews are posted by the girl itself. Or at least by someone with the same name. I'm not sure if these reviews are credible. But if you want to add your own review or learn more about the site you can check other escort agency reviews.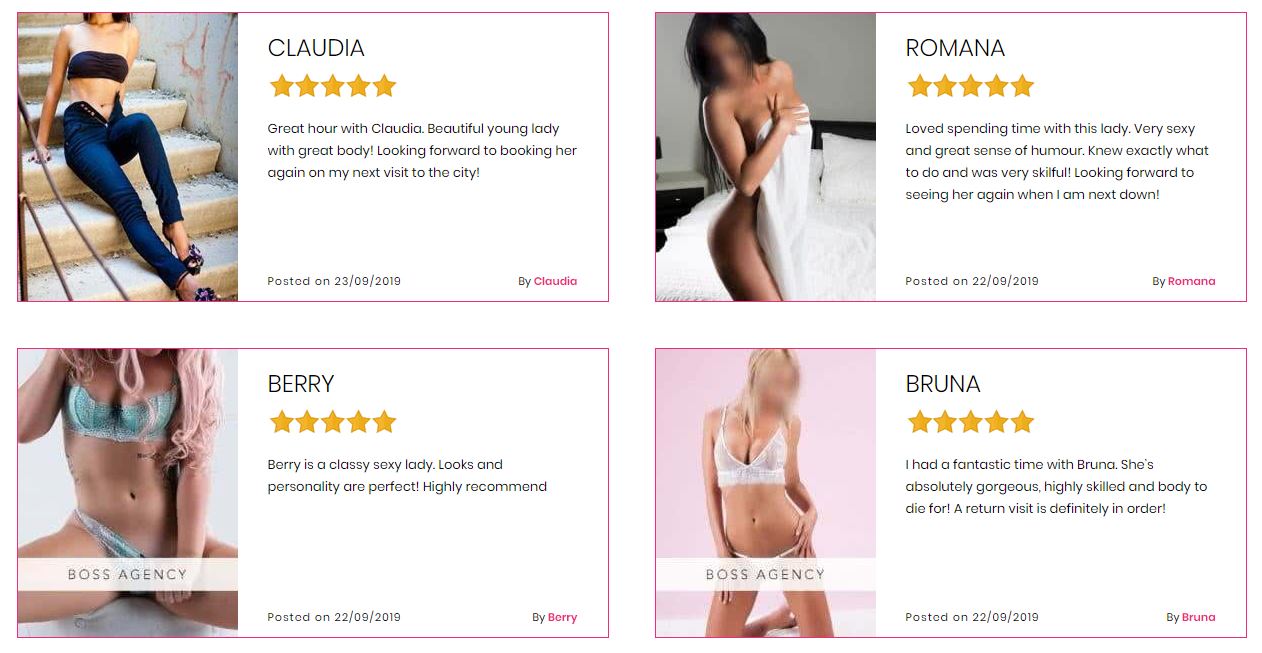 Since I rarely hire a girl via an escort agency (almost never) I can not give you 100% correct information about what happens here. My preference is using hookup sites and adult dating websites before paying for sex. I usually get the job done and have a lot of exciting experience without paying a dime. But if I really need to pay for a hookup app then I try to download one with strong security, profile authentication and verified user reviews.
Should You Use Escort Websites? Not Before You Try This!
If you had no success on hookup sites then maybe you haven't used the right one. Alternatively,  maybe you're not respecting the casual dating etiquette which can be troublesome for people who are not used to it. Perk up your profile! There is someone for everyone as they say. And on casual dating websites, there are more people for one person. That stands regardless of the physical appearances and other factors that can contribute to unsuccessful dating offline. If you ask me, I'd rather skip Boss Agency and try my chances on some of the legitimate adult dating websites.
What others are saying
Profile Quality
Search Options
Usability
Features
---
TIPS FOR GETTING LAID
Site Rankings
---