Blue Monday London Review: UK Escorts with Extra Fees
Blue Monday London Review: UK Escorts with Extra Fees
If you have been following this blog for a while, you know that we are mostly posting about good adult dating apps and websites, as well as about the not-so-good resources. The latter include escort websites, fake personals. and fake dating websites. Escort websites are one of the most expensive dating resources you can use. This is especially true if you stroll into the luxury scene such as we are going to do today in this Blue Monday London review.
Blue Monday London Review: Advertising Solo Girls
First of all, it's important to remember that this is an advertising platform. I'm not even sure that this is an agency. You can see that the homepage includes an open call for new girls. However, if you look at the Terms & Conditions, they limit each of the girls to work only on four websites maximum.
Do you know why this happens? This is because girls have posted their profiles on multiple advertising platforms and escort agencies and get duplicates reservations. They want to increase their chances to find clients. Sometimes, it happens that you can be left out in the dark with no date at all although you have already paid the fee.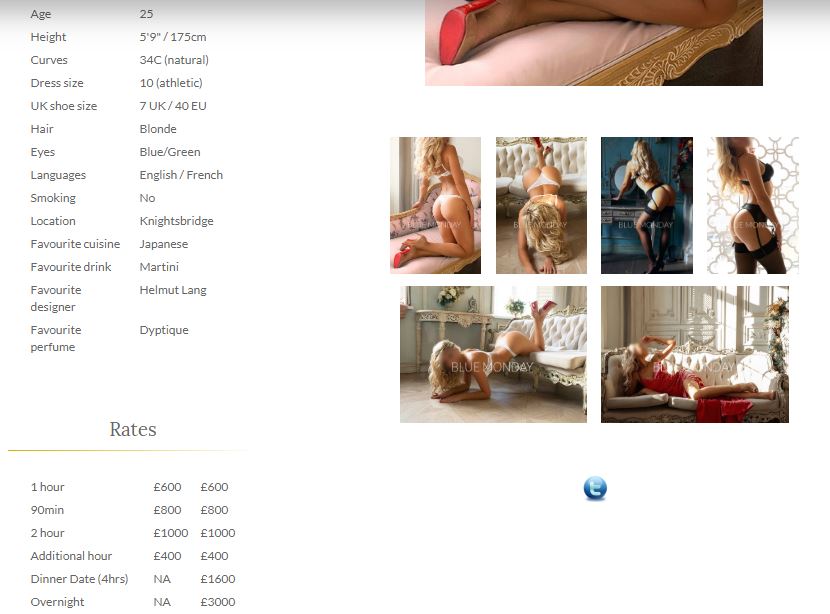 Blue MondayLondon Review: Extra Fees
And those fees are really not that small. Escort girls have high fees by default, But if these are luxury escorts with extra services they can cost you even more. For example, you will need to pay for travelling and accommodation. You may also need to pay for gifts Alternatively, if there is an agency involved, you will need to cover for the agency fee.
As you can see, Blue Monday London doesn't work for free. You will need to pay an additional fee even if it's invisible when you're browsing through their website. Some of the extra fees are very visible, such as the minimum £50 cancellation fee all the warning about travel expenses.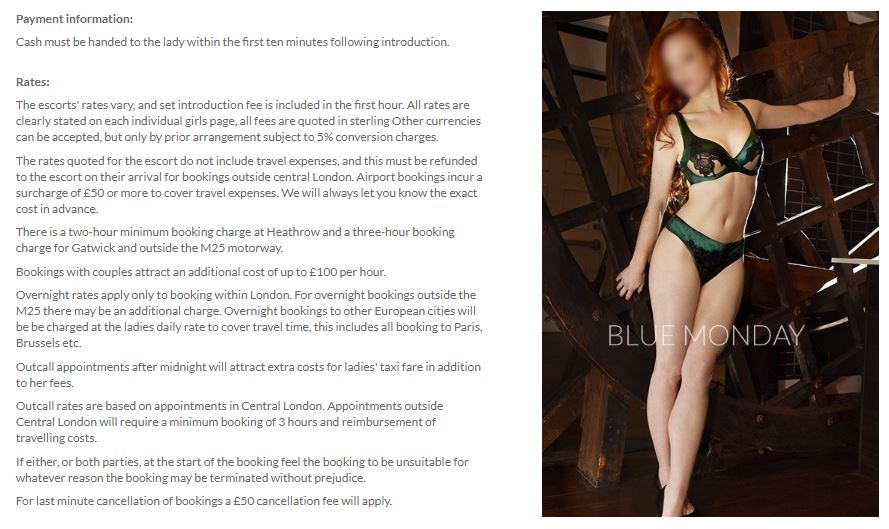 Blue Monday London Review: The Bitter End
Escort girls can work only as solo contractors in London. This change has left many agencies out of the business. Now they're trying to find other ways to get back into the game. Working on these types of advertising resources is one way to earn money. Therefore, you should always be considering that you're paying double.
And if you don't want to pay anything, there are always free dating sites. You can meet so many sexy girls without even thinking about paying for more than a drink or two. Take a look at our listing of the best hookup sites for instant hookups to find your favorite. There is something for everyone and all you need to do is create a profile in a few simple steps. Voila – start chatting and arranging hookups!
What others are saying
Profile Quality
Search Options
Usability
Features
---
TIPS FOR GETTING LAID
Site Rankings
---